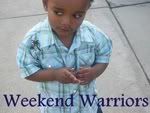 Anyone who has read my blog even once knows that today was my last day at my current job.
WOOOOOOOOOOO!!!!!!!
It was a good day. I went in early for a meeting, & my boss said some lovely things. He cried. I cried. Several of my coworkers cried. And then, there were no more tears the rest of the day. I couldn't have asked for anything better.
A few coworkers & I made plans to go out to celebrate tomorrow night. We're going to grab dinner at a diner, & then we're gonna get our drink on. Sounds super fun, right? Right.
So why am I frustrated?
Because I want DJ to come with too, and he can't. There are too many concerns about where we could go that's cheap to drink and handicap accessible. Where we live that combo is far to much to ask. Sure, we can drink at a restaurant. But we're young people on budgets, we can't afford $8 cocktails. We weighed the options of all the places we're considering for tomorrow night, & for some reason or another none of them makes logistical sense for DJ.
Even if there's a place that's easy for him to get into, we still have to be concerned. Case in point: we went to a place that was "easy for DJ to get into" with a friend of his who has a complete understanding of his limitations. She assured us this would be great. And it was...until she remembered that she didn't consider the bathroom. Oops. A handicap stall is great, but it doesn't do any good when a wheelchair can't fit through the bathroom door.
Grrrrr...
I don't mean to sound like a brat, but it's not fair.
DJ's disability was not a secret to me when we started dating, so I knew what that would mean. And I will
never
, not even for a fraction of a second, regret being with him. But he didn't deserve this. No one does. No one should have to miss out on activities with family & friends, even something as insignificant as this.
And maybe I do sound like a brat, but this is a big moment in my life (the career change, not the drinking) & is it too much to want the love of my life to share in the fun? God knows he's had to share in all the not-so-fun leading up to this.
We talked over the options this afternoon, & I told him that it's his decision whether or not he wants to come. I offered to make any necessary arrangements, from directing everyone to a place where he feels safe to enlisting some boys in case he needs physical help. In the end, he decided not to go, & I completely understand why. So I put a smile on my face, & told him it was ok.
But it hurts, & I'm sad. I'm just not going to tell him that, because I don't want him to feel that way too.