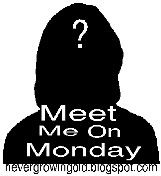 Meet me on Monday is hosted by Java at
Never Growing Old.
It's a blog hop/survey/fun way to meet fellow bloggers.
1. What is your favorite all time movie?
The American President with Michael Douglas & Annette Benning. That is my "drop everything for the next 2 hours" movie. I can't help but watch it when it's on.
Image from Swagbucks.com
2. How often do you go over the speed limit?
I take a back country road to work, so everyday. It's terrible, I know.
3. What really gives you the creeps?
I'm a city mouse, who now lives in the country. It gets so dark at night, & I get really creeped out by that. If someone was right outside in my yard, I wouldn't be able to see them. Spooky...
4. What is your favorite snack?
That kind of depends on my mood, but I'm generally a salty snack person.
5. Would you rather be a dog named Killer or a cat named Fluffy?
Fluffy probably has a pretty cushy life, so I'll go with that.