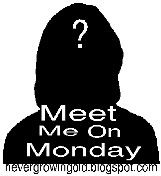 Meet me on Monday is a weekly blog hop hosted by Java at
Never Growing Old.
Just answer the questions & link up!
Questions:
1. What will your Christmas dinner consist of?
We're having a Christmas Eve lunch with the boyfriend's family. I'm planning on chicken parm & spaghetti, salad, beer bread & who knows what else. My family will have more traditional food (ham, turkey, etc), but we don't have a sit down meal. We just have sandwiches, potato/macaroni salad & other finger foods. And we never forget the Polish food! It's nice, because extended family & friends come & go throughout the night, & every eats what they want when they want.
2. Do you watch commercials or flip through the channels?
I do a little of both. Sometimes I'm too impatient to wait, & other times I just have to watch because the commercials are so funny. Did anyone else see the Penelope Cruz commercial for Kahluah?? Love it!
3. How long will you leave your Christmas decorations up?
My family will be here on New Year's Day for pork & sauerkraut, so I'll keep them up until then.
4. What movie makes you cry every time you watch it?
Steel Magnolias. No matter how many times I see it, it gets me everytime. You would think I'd learn my lesson after a while.
The armadillo cake is one of the funnier points in the movie. If you haven't seen it, you must! Total chick flick, but I love it.
5. Do you have a Facebook?
Yes - & I'm an addict.