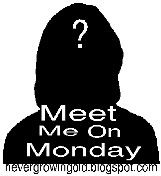 Meet me on Monday is a weekly blog hop hosted by Java at
Never Growing Old
. It's a great way to meet new bloggers & get to know eachother a little better by answering a few questions.
Questions:
1. What is your favorite way to eat chicken?
I would have to say chicken parm with spaghetti...although there are a million other ways that chicken is declicious.
2. Have you decorated for Christmas yet?
I'm half-way there. The tree is up, & I'm decorated inside. I'm off on Wednesday, so I'm hoping to hang the outside lights then.
3. What is your favorite article of clothing?
I don't have just one, but I'd have to say my collection of sweaters.
4. Do you pay your bills online or write checks the old way?
For the most part, I pay online. Let's save some trees, people!
5. Do you make Christmas cookies?
When I was little my family used to get together to make cut out cookies, but we don't do that anymore. I think this year I'm going to make some cookies for myself. Not a whole lot, just a few batches of the kinds DJ & I like best.