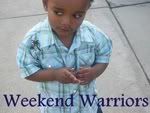 DJ needs a new wheelchair - badly. He's been using his "spare" for months now because his original randomly broke one day. This one is on it's last leg - no pun intended. Although this may not seem like a big deal, it's a pretty hot topic in our house.
I would never say this to DJ, because I've learned to pick my battles, but I think I've spoiled him by doing everything all the time. I can count on one hand the number of times he's done dishes since we moved into the new house, & even then he just loaded the dishwasher. He doesn't do any other housework, except to clean the garage - because I absolutely refuse to do that. The man cave is his responsibility.
Since I'm at work all day, he's had to be the one to make all the phone calls & deal with all the mortgage stuff - which is a freaking fiasco. He gets pretty testy about it, & when he's mad he sort of implies that I should be doing more. Well love, when exactly would you like me to do that - before I cook dinner at lunchtime while trying to get myself ready for work, or after I get home at 11:30?
That's not even the big issue. The big issue is my original topic: the wheelchair. During the move (and because Social Security is screwed up!), his insurance lapsed somehow. He's trying to straighten all that out, but he gets frustrated & gives up after a while. The ownership I can take is that there are still a bunch of boxes that aren't unpacked, & some helpful paperwork is probably in them. However, that is not preventing him from getting this taken care of...it's just an excuse.
I love him & there's nothing I wouldn't do for him, but I can't do this. This is something he needs to take care of. I know it's annoying, & I'd want to give up too - but sometimes in life you just have to put on your big-girl-panties & get the job done. I think this is one of those times.