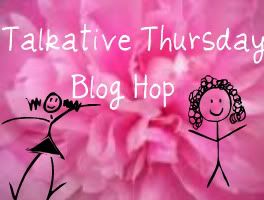 Talkative Thursday's is hosted by Shanna at
Mommy of One
, so visit her blog & link up!
I'm relatively new to blogging. I was introduced to it by my SIL Jenn. Feel free to visit her blog
South of Sheridan
.
She does great giveaways & has a ton of funny stories about newlywed life.
I blog a lot about my
relationship
, much to my boyfriend's chagrin - but I don't let that stop me! Tee hee!
In the interest of preserving my relationship, I blog
a lot
about work - my old & not so good
job
, as well as my new, fantastic
one
.
And sometimes I blog about
Swamp Thing
.
I'm always looking for new followers & new blogs to follow! Thanks for stopping by!