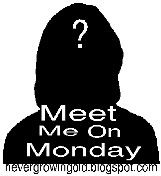 Meet me on Monday is hosted by Java at
Never Growing Old.
It's a blog hop/survey/fun way to meet fellow bloggers!
Here are this week's questions.
1. What is your favorite dessert?
My absolute favorite is really, really beautiful fruit salad. I like it filled with lots of berries - strawberries, rasberries, etc. And lots of other good stuff too: peaches, pineapple, kiwi... Yum-o!
2. What do you wear to bed?
TMI alert! I sleep in panties - only panties. I'm a tosser/turner, so I get all caught up in PJs or even just a t-shirt.
3. Do you get regular manicures/pedicures?
I wish I did. I've never been brave enough to get a pedicure because I have a weird issue with people looking at my feet. And, I'm embarrassed to say, I'm a nail biter...a really bad one. It's so gross & I know it, but I think it's an anxiety thing. If anyone has any suggestions for breaking a bad habit, I'm all ears!
4. Did you play any sports in high school?
Nope, no sports in high school. I played basketball in 7th & 8th grade, but no sports after that. I was in Yearbook in high school.
5. Do you have an iPod?
I don't leave home without it! Manny keeps me company on my way home from work each night. Funny story - my iPod's name is Manfred iPodington. When my friend helped me set-up my iPod for the first time it prompts you to name the device. My friend is incredible sarcastic, & her iPod's name is Rutherford iPodington. And so mine was named Manfred - her iPod's brother.