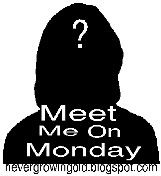 Meet me on Monday is hosted by Java at
Never Growing Old.
It's a blog hop/survey/fun way to meet fellow bloggers!
Here are this week's questions.
1. What is your favorite kind of doughnut?
Definitely chocolate glazed doughnuts. Mmm...so good.
2. How often do you pray?
I really, truly pray only when it's absolutely necessary. I'm not a "God, please let there be no traffic on the way to work, " kind of girl.
3. What is your favorite kind of music?
The kind with lyrics that speak to me - usually...but I can't deny my love of terrible pop music.
4. What do you order when you eat Chinese food?
Shrimp fried rice or sesame chicken.
5. Would you rather snowboard in the winter or swim in the summer?
I would rather swim. I LOVE the water - from the pool to the ocean. I should have been a fish.