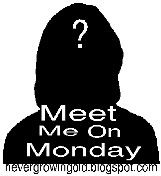 Meet me on Monday is hosted by Java at
Never Growing Old.
It's a blog hop/survey/fun way to meet fellow bloggers! I just learned that Java is a fellow PA girl, too. I'm always happy to show some love to a "neighbor."
Questions:
1. Do you watch any Soap Operas?
No - but I do watch other questionable TV (Maury, Judge Judy, Cheaters, etc.)
2. What appliance is used the most in your house?
Is the computer considered an appliance? If not, the microwave.
3. Do you wear make-up every day?
I used to - & then I became a nurse aide.
4. What is your worst pet-peeve?
There are far too many to choose from.
5. What is your favorite lunch meat?
I never really thought about it. I guess turkey.