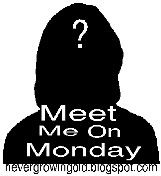 Meet me on Monday is hosted by Java at
Never Growing Old.
It's a blog hop/survey/fun way to meet fellow bloggers!
Here are this week's questions.
1. What is your favorite kind of potato chip?
Munchos!! Ever heard of them? They're light & airy & just sooooo yummy!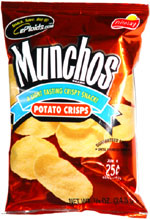 Image from Google.
2. Do you make your bed everyday?
Yes. Before I worked 2nd shift our bed was never bed because DJ was always sleeping when I left in the morning. Thankfully, he's not on the vampire schedule anymore.
3. How often do you go to the hair salon?
Pfftt...when I think of it. I don't pamper myself that way, which is why I don't have great looking hair.
4. What do you dip your French fries in?
Usually just ketchup. Boring, I know. If I'm eating chicken with the fries, probably ranch.
5. Do you shop with coupons?
No, & it's a constant argument with my mother - the Coupon Queen. I'm just too lazy to clip coupons. I know I'm only hurting myself though.