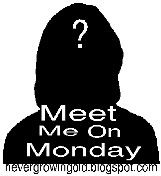 Meet me on Monday is hosted by Java at
Never Growing Old.
It's a blog hop/survey/fun way to meet fellow bloggers.
1. What is the best dish you can make?
I make a mean chicken parm & spaghetti.
2. How often do you change your sheets?
Weekly usually.
3. What is the longest car trip you have ever taken?
Last year DJ,his sister, his brother-in-law & I drove to Florida - on sis & BIL's wedding night! The drive there & back is sooooooo long, but it was worth it.
4. What is your favorite fruit?
Berries - strawberries, rasberries, blackberries, etc.
5. Would you rather have breakfast for dinner or dinner for breakfast?
Breakfast for dinner...following breakfast for breakfast. I love breakfast food!